English Teacher Resources
Worksheets, Lesson Plans and Teaching Tools
Woodward English loves to help English teachers around the world and the objective of this section is to make teachers and parents' lives easier.
How to use this Website
We have many grammar topics. You can refer your students to the student section of grammar.cl (they can click the green button at the top to go straight there). On the Student section page you will find a long list of grammar topics as below.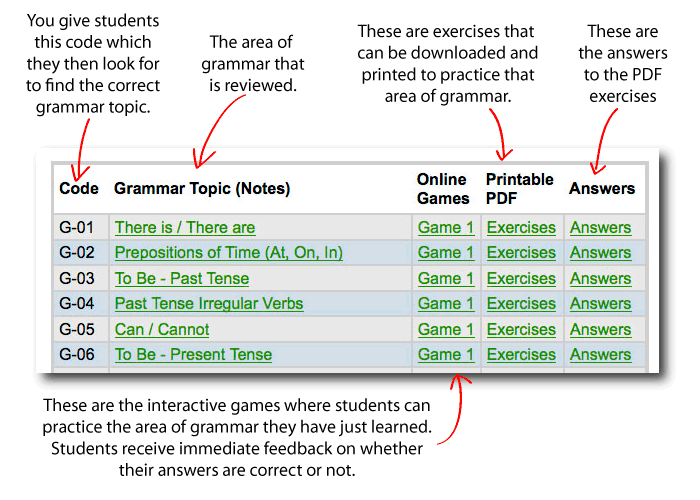 The student section is great as a reference guide should students have any doubts and also to practice areas they may need more help with.
Free Printable Worksheets for English Classes
We have created downloadable worksheets covering some of the grammar topics. Each topic has its own worksheet in PDF form which can be found in the student section.
If you like, your students can also check their own answers on the "Answers" Page next to each topic.
Permission is hereby given to download and photocopy these worksheets for use by individual teachers in their classrooms on the condition that no changes be made to the exercise sheet. The copyright notice and the www.grammar.cl website address must remain in place.
These exercises cannot by published on any other website. Please remember that we have spent a lot of time to create these free activities so please respect this. Also, If you see a mistake in any, please let us know so we can correct it.
English Lesson Plans for Teachers
We have created teacher resources and lesson plans for ESL/EFL classes at all levels. These are aimed at adults learning English as a second language though can easily be adapted for younger learners. You can find our resources here: Woodward English Teacher Resources
More of our Free English Learning Sites
Remember that we have the following to help your students improve their English outside of the classroom:
Woodward English Vocabulary - www.vocabulary.cl
Similar to this grammar website though focused on English vocabulary. We have vocabulary notes and games for students.
Woodward English Blog - www.woodwardenglish.com
Our blog to help students learn English with a new article we publish every week. Sometimes we include idioms, common mistakes, famous quotes and even jokes in English, all with an explanation of the vocabulary and/or grammar that appears.
Woodward English on Facebook - www.facebook.com/WoodwardEnglish
Follow us on Facebook where we frequently publish new material and images that we create and that are easy to share.
Woodward English on Pinterest - www.pinterest.com/WoodwardEnglish
Whenever we create a new image or chart, we add it to our Pinterest boards.
Woodward English on Periscope - www.periscope.tv/WoodwardEnglish
Follow us on Periscope so you can catch our live video streaming and interact with Rob W via the live chat.
Woodward English on Twitter - @WoodwardEnglish
On twitter we have our English Word of the Day which includes another tweet with an example of its use. We read all of the messages people send us and often answer people's questions and doubts. This is also the place where we let students know when we have created new material.
RESOURCES FOR TEACHERS
You can find Woodward English resources here: Woodward English Teacher Resources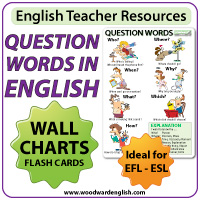 Recommended Books:
Grammarly - Grammar & Plagiarism Checker
The Grammarly plagiarism checker is one of the many functions of Grammarly's grammar checker. Grammarly scans your students' texts and marks all examples of potential plagiarism for your review. Additionally, when the checker finds borrowed text in their writing, it shows you where it found the information.
Grammarly has been endorsed by hundreds of universities including Princeton University, University of South Florida, University of Virginia and many others.
RESOURCES FOR PARENTS
ABCmouse - Early Learning Academy
A full online curriculum from preschool through Kindergarten.
Six Levels with over 450 lessons covering:
Reading, Math, Science, Art & Colors and Music.
There are more than 3000 individual learning activities with a rewards system that motives your child to continue learning.
A completely child safe site with no advertising, no pop-up ads and no external links.
ABCmouse.com - First Month Free - Click here!
If you found these English Teacher Resources interesting or useful, let others know about it: